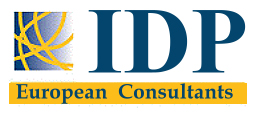 IDP SAS
IDP, with branch offices in Italy and in Brussels, was established in 1996 by partners working since 1991 in Brussels in the frame of EU policies and EU funding programmes.

It relies on more than 20 year experience in the development, submission and management of successful EU projects. Since 1999, IDP develops and carries out also specialised training courses for VET and Adult learners focused exclusively on EU related issues (EU Institutions, policies, programmes, project management etc), delivering an average of +1000 hrs/year of training to +550 adult attendees/year.

IDP organises also study visits in Brussels to the EU Institutions or the participation of groups of AL to major EU events (such as the Open Days of DG Regio); moreover, it takes part in all EU events held in Brussels (Info days, conferences, meetings etc) and has regulars contacts with officers and representatives of Brussels-based Institutions, practitioners, associations and projects.

As a training service provider, IDP organises, manages and delivers high quality specialised training for Local and other public authorities, focusing on the various aspects of project management, planning, financial management, implementation, fund-raising, etc In addition to serving the public and third sector, IDP offers services to institutional clients from both national and regional governments. Moreover, IDP is currently a contractor of the EU Institutions/Agencies having been awarded in 2010 two contracts on the basis of competitive bidding.